ACT Theatre

ACT Theatre
Founding Sponsor - CONNEX
Sponsor 2000 - ERICSSON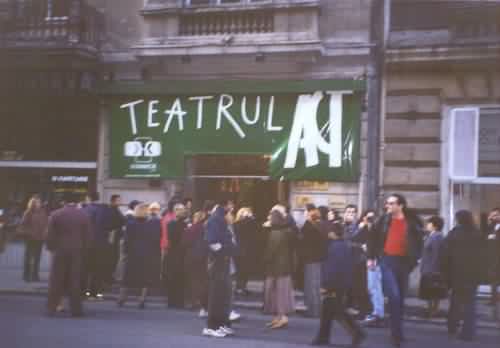 Established in 1995, The ACT Theatre Cultural Foundation is the first independent theatre company that mainly aimed to build, first and foremost, its own performing space, for both theatre, music, film and dance performances and workshops, seminars, debates, book-launches, photograph, painting and sculpture exhibitions.
And therefore, The ACT Theatre (launched in September 1998) is the first independent theatre in Romania which, unlike other independent theatre companies, has its own stage in an underground location downtown Bucharest. The opening of the theatre was possible due to the financial and moral support of numerous theatre and film personalities such as

Tom Cruise,

Sir Ian McKellen, Richard Eyre,

Tom Stoppard, Dame Diana Rigg,

Dame Judi Dench, Alan Bates,

Alan Rickman, Ian Holm,

gathered around this idea of independent theatre movement launched by

Marcel Iures,

Romanian actor, internationally known through theatre tours all around Europe - especially in UK - and American movies (Mission Impossible, The Peacemaker, the Italian series Una donna per amico - a RAIUNO Production; and others).





Marcel Iures

(as the Utopist in The Citadel of the Sun, the first production of the ACT Theatre, September 1998)

The ACT Theatre has both produced its own performances and cultural events, and hosted, technically supported and promoted other independent theatre companies' productions. This partnership with such institutions aims to stimulate the independent initiative within the process of producing cultural events, and proposes an achievable example of unity, coherence and successful collaboration within the independent theatre movement, which may also constitute a realistic alternative in Romanian theatre life.
Productions of the ACT Theatre:



The Citadel of the Sun

First production of the ACT Theatre, adapted from Tommasso Campanella, directed by Mihai Maniutiu, with Marcel Iures






Genosse Frankenstein, Unser

Geliebter Fuhrer!

a co-production of The ACT with Weimar 1999 - Cultural Capital of Europe and the Odeon Theatre Bucharest, directed by Mihai Maniutiu, with Marcel Iures and Oana Pellea, produced and performed for the Frankenstein Festival, within Weimar 1999 - Cultural Capital of Europe in September 1999, Weimar, Germany







Marcel Iures and Oana Pellea

(as Frankenstein, in Genosse Frankenstein, Unser Geliebter Fuhrer!, Performed in Weimar, September 1999)

Independent Theatre Companies
and their performances at the ACT,
since January 2000:
The Inexistent Theatre




A Flight to Paradise...

Mr. and Mrs. Oval

How To Do It...

The Final Countdown

directed by Theo Herghelegiu






Dana Voicu, Bogdan Talasman and Catrinel Badina

(in The Final Countdown,

produced and performed at the ACT Theatre)





Of - Of Company




A Summer Day

By Slawomir Mrozek

directed by Alice Barb

















Ada Navrot, Liviu Lucaci, Eduard Gabia and Dani Popescu (in One Summer Day, produced and performed at the ACT Theatre)

D'Aia Company (The Dumb Waiter, by Harold Pinter, directed by Puiu Serban)
Teatrul Fara Frontiere Company (Anne Frank, adapted from Anne Frank's Diary, directed by Liana Ceterchi)
The New Image Foundation (What About the Cello?, by Matei Visniec, directed by Vasile Nedelcu)
LB Production (Opera Fantasy, opera performance conceived and directed by Armand Gerard)



CALEIDOSCOP Company





Caleidoscop - conceived and directed by choreographer Miriam Raducanu





Ghetto Story - a co-production with the ACT Theatre and Of-Of Company, conceived and directed by Alice Barb







Ghetto Story

Produced and performed at the ACT Theatre